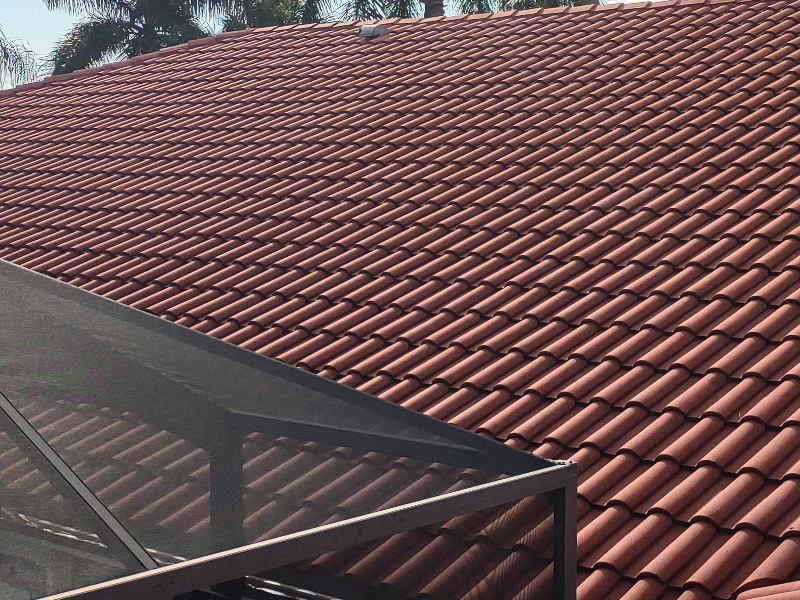 With our turbulent hurricane season, Floridians are pretty conscious of our roofs. Still, not many of us are stoked about the annual roof cleaning that's recommended to keep our roofs in top-shape, functionally, and aesthetically. Luckily, the pressure washing pros at PDUBBZ POW-R-KLEEN are roof cleaning experts who are eager to return your roof to its former glory and to ensure its safety way beyond the storm season.
Roof cleaning is important for Suncoast homeowners, not just because it makes your roof look brand new again. (As if that isn't reason enough!) It also removes harmful algae that can compromise the integrity of your whole roof system. The dark streaks on your roof are caused by algae that are actually eating the limestone in your shingles. In time, they'll dislodge all the shingles' protective UV granules and even start to work underneath the shingles, making openings for mold to infiltrate interior structures. The last thing any Floridian needs is a weak roof or mold problems, and this is why roof cleaning, especially by pros like PDUBBZ POW-R-KLEEN, is essential maintenance.
Why You Need Soft Washing For Your Roof
The team at PDUBBZ POW-R-KLEEN is experienced enough to know that pressure washing is the last thing your roof needs. It's too abrasive and can cause as much, if not worse, damage as hungry algae. Instead, we use a gentle, solution-based soft washing method (the same one we use in our top-notch house washing service) that's guaranteed to deliver dazzling and damage-free roof cleaning results.
Other benefits of having routine soft wash roof cleaning by PDUBBZ POW-R-KLEEN include:
Lowers utility costs and insurance premiums
Completely kills and inhibits the return of invasive organisms like mold, mildew, algae, moss, lichens, fungus, bacteria, and more
Reduces allergens
Eliminates insects, spiders, nests, eggs, animal, and bird droppings
Helps homeowners identify and repair roof problems
Boosts property value and curb appeal
Makes you feel happy and secure with your beautiful, like-new roof!
While you can do your own roof cleaning, it's really not a very safe DIY project, and the trusted pros at PDUBBZ POW-R-KLEEN are more than happy to take on this task for you. We'll save you more time and money, and our licensed and insured technicians guarantee stunning, long-lasting results.
PDUBBZ POW-R-KLEEN is ready to give you a safer and like-new-again roof with our cutting-edge roof cleaning service, so call today.
---
Recent Articles & Tips
When most people visualize life in Florida, they envision sunshine 🌞, palm trees 🌴, beaches 🏖, and many other summer related activities. I can't think of a better summertime activity than swimming! (I'm sure most people would agree with that.) And the best part? Summertime in […]
These days, you can do most of your own home improvement and maintenance projects. Anything you want to learn can be found on the Internet, and if your local hardware store doesn't have the supplies you need, you can find them somewhere online, too. DIY projects […]