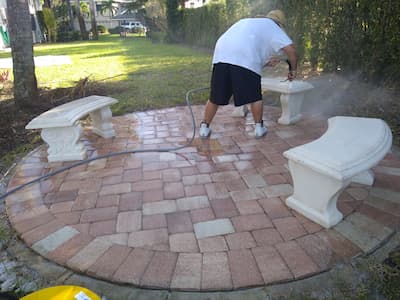 Pavers add Old World charm just about anywhere they're installed, but when they get dirty, they may not look charming at all, just old. If the pavers around your property are starting to look this way and you're dreading the prospect of scouring them, professional paver cleaning is your solution. The pressure washing specialists of PDUBBZ POW-R-KLEEN have the right paver cleaning touch to restore them instantly and safely.
Paver cleaning & sealing is a bit tricky. Like concrete, pavers are porous and seem to absorb stains and contaminants like a sponge. Pavers are also pretty durable, but they're not hardy as a slab of concrete, and their many joints make them vulnerable to aggressive tactics. Pressure washing's ideal for paver cleaning, but it has to be done with care. Amateurs and some contractors will blast pavers to the point of breakage.
A PDUBBZ POW-R-KLEEN paver cleaning & sealing is different. We use a lower PSI setting and go a little slower to ensure a precise and damage-free paver cleaning that also completely revives that old charm of your pavers.
We take this same approach with our pool deck cleaning, as well. As seasoned pressure washing experts, we understand that not all the surfaces around your home need abrasive techniques to achieve stunning results.
If you're ready to renew your home's charm, call PDUBBZ POW-R-KLEEN today for an effective and damage-free paver cleaning.
Latest Paver Cleaning & Sealing Projects
---
Recent Articles & Tips
When most people visualize life in Florida, they envision sunshine 🌞, palm trees 🌴, beaches 🏖, and many other summer related activities. I can't think of a better summertime activity than swimming! (I'm sure most people would agree with that.) And the best part? Summertime in […]
These days, you can do most of your own home improvement and maintenance projects. Anything you want to learn can be found on the Internet, and if your local hardware store doesn't have the supplies you need, you can find them somewhere online, too. DIY projects […]