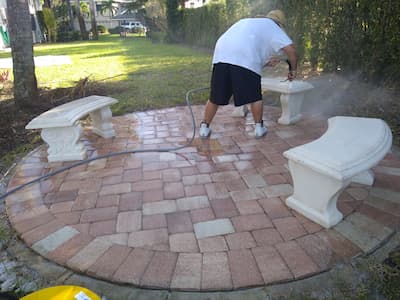 Whether you've been struggling to sell your Lakewood Ranch home or to feel as excited about the way it looks as when you first bought it, the pressure washing pros of PDUBBZ POW-R-KLEEN have a selection of services that'll instantly boost your home's value and curb appeal.
Realtors agree that a clean and cozy home interior appeals to house hunters, but there are exterior services, such as pressure washing, that can make your Lakewood Ranch property literally look brand new again and attract the family who'll actually buy.
Plus, routine cleaning by a trusted professional extends the life of essential components, like your siding and roofing, so even if you're not currently selling, such services will revive your feelings of pride and security in your Lakewood Ranch home for a long time to come. You really can't go wrong.
Some of the exterior services you can implement right now to beautify and keep your Lakewood Ranch home in showplace condition include:
Pressure washing concrete, pavers, and other hard surfaces
Roof cleaning
House washing/Vinyl siding cleaning
Servicing, cleaning, or even adding landscape lighting
Pool maintenance and deck cleaning
Lawn maintenance such as mowing, edging, weeding, pruning, raking
Trimming precarious tree limbs
Planting or adding potted plants, especially around your entry
Painting and staining
When you want to restore your confidence in your Lakewood Ranch home, PDUBBZ POW-R-KLEEN's pressure washing and soft washing services will exceed your expectations.
PDUBBZ POW-R-KLEEN: Lakewood Ranch's Leading Roof Cleaning Service
If you've never had professional roof cleaning before, you're probably pretty excited about the promised "like-new" results that everyone raves about. However, you're probably just as anxious about how your contractor will treat your roof because it's such a huge investment and so important to your family's safety.
If you've chosen PDUBBZ POW-R-KLEEN, you really haven't much to fear. Not only are we fully licensed and insured, but we also respect your Lakewood Ranch property as if it were our own. You'll be quite pleased with our work practices. You'll notice that we always:
Cover landscaping, etc. to protect it from the soft-wash solution
Heed safety protocols
se safety gear, including harnesses and OSHA, approved ladders
You won't catch us on the phone or texting while on your roof
No stomping or dragging things on your roof
Work with precision and efficiency
Show up and finish on time
Perform a thorough clean-up
Give honest advice, answer questions, explain procedures
Most importantly, we'll make sure you're happy before we leave. PDUBBZ POW-R-KLEEN of Lakewood Ranch wants you to feel comfortable with your roof cleaning experience, and we'll go the full distance to make sure you do.