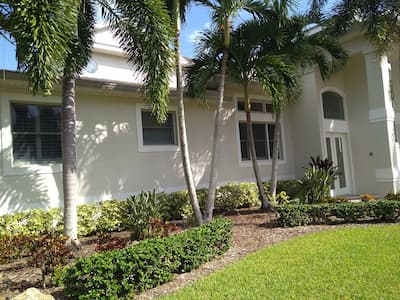 House washing is essential maintenance for any Florida homeowner because it not only boosts curb appeal but also increases property value and the longevity of your home's structures. Doing your own house washing can be daunting, especially if you don't have a lot of experience or the right equipment, and you can end up hurting yourself or your property. Luckily, the pressure washing pros at PDUBBZ POW-R-KLEEN are house washing experts, too, and ready to make your home look like brand new again.
One of the most common problems Florida homeowners face is algae growth. The algae appear as black streaks on roofing and house siding in particular, and our hot, humid climate is the perfect breeding ground for them. The algae by themselves aren't dangerous, but as they spread on siding, they can work underneath panels, causing gaps that allow mold to penetrate interior structures and living spaces. Mold is dangerous, so professional house washing is a must to keep algae, mold, and other contaminants at bay.
The most effective means of house washing is soft washing, which uses virtually no pressure at all. Don't let anyone talk you into pressure washing your house if you have siding or another delicate substrate. It can destroy the panels. However, PDUBBZ POW-R-KLEEN's soft wash method (the same one we use for our top-rated roof cleaning service) uses an eco-friendly solution that's guaranteed to remove all the nasties without harming your landscaping, pets, or surrounding surfaces.
Oh, and it also instantly restores siding to like-new condition. Your neighbors will wonder if you've had new siding installed. No kidding!
If you're ready to give your house an instant facelift, it's time to call PDUBBZ POW-R-KLEEN for professional house washing.
---
Recent Articles & Tips
When most people visualize life in Florida, they envision sunshine 🌞, palm trees 🌴, beaches 🏖, and many other summer related activities. I can't think of a better summertime activity than swimming! (I'm sure most people would agree with that.) And the best part? Summertime in […]
These days, you can do most of your own home improvement and maintenance projects. Anything you want to learn can be found on the Internet, and if your local hardware store doesn't have the supplies you need, you can find them somewhere online, too. DIY projects […]