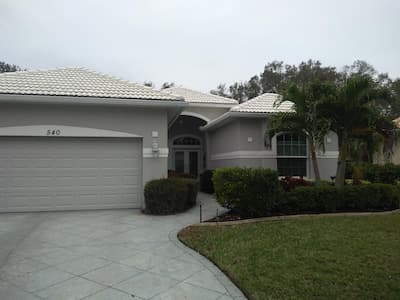 The driveway in front of your Osprey home is like a gigantic welcome mat, and when it's covered in nasty stains and built-up gunk, it can be downright uninviting, not to mention a big safety trap. Pressure washing has long been the gold standard for driveway cleaning, and PDUBBZ POW-R-KLEEN is Osprey's top-qualified pressure washing specialist.
You'd probably be surprised to know all the stuff that collects on your Osprey driveway. Some of it is toxic, and some of it can destroy the interiors of your home and vehicles. Clearly, it's important to remove these things:
Oil and vehicle fluids
Lawn chemicals
Mold, mildew, fungi, bacteria
Algae, moss, lichens, weeds
Tree pollen, sap, leaves
Rust and hard water stains
Dirt, grime, debris
Plus, when you let PDUBBZ POW-R-KLEEN do your Osprey pressure washing, you get a spectacularly shining surface that literally looks new again.
When you want to create a more welcoming driveway for your family and friends, call Osprey's PDUBBZ POW-R-KLEEN for our top-of-the-line pressure washing service.
PDUBBZ POW-R-KLEEN: Spectacular Roof Cleaning in Osprey
PDUBBZ POW-R-KLEEN in Osprey aims to be the contractor you call for all of your exterior cleaning needs. We're more than just a pressure washing company. We have the training and tools to tackle any surface and make it gleam like new, and our innovative soft wash method is an indispensable tactic in our arsenal for delicate siding and roof cleaning.
Amateurs and some contractors may tell you it's OK to pressure wash your Osprey roof. Don't you believe it! Pressure washing can tear and dislodge shingles and strip them of their UV granules that protect your home, your family, and your utility bills from the blistering elements. Solution-based soft washing is the only method you should ever let anyone use on your roof and not just because it's gentle. The benefits are numerous, including:
Uses non-corrosive chemicals that are eco-friendly
Harmless to your pets and landscaping
Reduces allergens
Kills and prevents the return of invasive organisms like algae, mold, fungi, bacteria
Extends the life of your roofing system and interior structures
Increases property value
Lowers utility bills and conserves energy
Boosts ownership pride and curb appeal
The next time you're in the market for quality soft wash roof cleaning in Osprey, call PDUBBZ POW-R-KLEEN to be wowed.