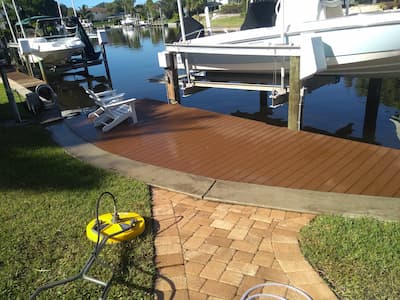 At PDUBBZ POW-R-KLEEN, we pride ourselves on being the most versatile pressure washing pro in the Port Charlotte area. Homes are made of all different materials, and we have the knowledge and gear to safely and effectively clean most of them because we aim to be the contractor you count on for all your Port Charlotte exterior cleaning needs.
Still, pressure washing is our first and most popular service. It's the gold standard for hard surfaces, like concrete, around your Port Charlotte home. It instantly rids them of stubborn stains, slipping and tripping hazards, and dangerous contaminants, pollutants, and organisms.
The most common areas we pressure wash on Port Charlotte homes include:
Patios and porches
Sidewalks and walkways
Driveways
Pavers
Foundations
Concrete of all kinds, including decorative planters, statuary, borders, walls, furniture, etc.
You can rely on the fully trained, licensed, and insured pros at PDUBBZ POW-R-KLEEN to deliver thorough and damage-free pressure washing results every time. And if your surface can't be pressure washed, we'll not only be the first to tell you, we'll provide an alternative soft or no-pressure wash to get you the stunning results you seek.
When you need a versatile pressure washing pro to cover all your Port Charlotte exterior cleaning needs, PDUBBZ POW-R-KLEEN is your go-to choice.
Outstanding Roof Cleaning Done by PDUBBZ POW-R-KLEEN of Port Charlotte
The roof on your Port Charlotte home ensures your family's comfort and safety, and regular professional roof cleaning protects and prolongs your roof's life. Because your Port Charlotte roof is so important, you can't let just anyone mess with it. The experts of PDUBBZ POW-R-KLEEN have the experience and state-of-the-art equipment to earn your trust and to produce perfect results every single time.
Our innovative solution-based soft wash method delivers an instant facelift to your Port Charlotte roof while maintaining its beauty and quality for a long time afterward. Plus, it provides health benefits because it:
Reduces allergens
Kills organisms like mold, mildew, fungus, and bacteria
Eliminates algae, moss, lichens
Wipes out dirt, grime, tree sap, leaves, debris
Clears spiders, insects, eggs, nests
Removes animal and bird droppings
When you need a contractor who cares as much about the beauty and safety of your Port Charlotte home as you do, call PDUBBZ POW-R-KLEEN for superior roof cleaning.