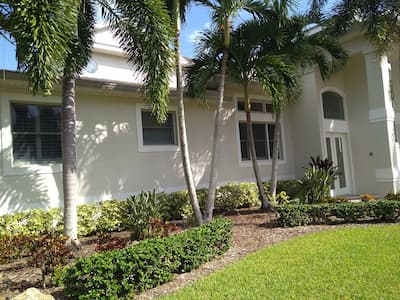 As an Englewood homeowner, you know how important regular maintenance is to preserve the beauty, quality, and value of one of your biggest investments. If you spend the time and money on interior cleaning and lawn care, one of the smartest moves you can make is to invest in professional exterior cleaning services, like pressure washing. You'll be surprised at how affordable it is and how amazing it'll make your Englewood property look.
PDUBBZ POW-R-KLEEN is Englewood's leading exterior cleaning contractor for a reason: we're diverse. While pressure washing is our star specialty, we're just as skilled with soft, low-pressure, and no-pressure washing methods so that we can return every surface on your Englewood property to like-new condition. You'll never have to call another contractor again because we won't say no, and we won't disappoint you.
Our services include:
Driveway Cleaning
Paver Cleaning
Sidewalk Cleaning
Roof Cleaning
House Washing (Vinyl and Wood Siding)
Landscape Lighting
If you need a service not listed here, give us a call. We're happy to figure out a solution that'll satisfy you.
When you need an exterior cleaning contractor who does it all, it's time to call PDUBBZ POW-R-KLEEN to get the best pressure washing and soft washing services in Englewood.
Englewood Picks PDUBBZ POW-R-KLEEN for Roof Cleaning
PDUBBZ POW-R-KLEEN strives to be Englewood's most versatile exterior cleaning contractor. That's why we're known for both our pressure washing and innovative soft washing methods. Our gentle, solution-based soft wash picks up where pressure washing is too abrasive, and it is the safest, most effective way to clean most of the delicate surfaces around your Englewood home, including:
All roofing substrates (asphalt shingles, tile, wood, etc.)
Vinyl and wood siding
Wood
Stucco and coquina
Pergolas, lanais, screens, enclosures
Outdoor furniture
Painted surfaces
Windows
PDUBBZ POW-R-KLEEN strives to provide Englewood with damage-free pressure washing and soft washing services every time.