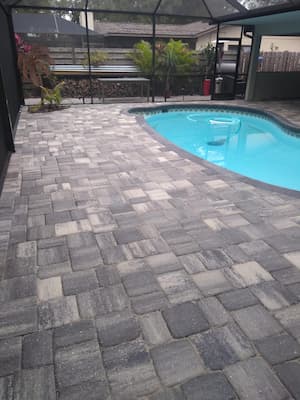 TV and the Internet and home improvement shows have made Do-It-Yourself projects like pressure washing more popular than ever, and you can easily DIY the surfaces around your Nokomis home if you're so inclined. However, if you lack experience or the right equipment, the job can be dangerous and time-consuming, and you may even accidentally damage your own Nokomis property or void certain warranties and insurance policies.
Professional pressure washing is more affordable today than you probably realize, and letting the fully trained, licensed, and insured pros of PDUBBZ POW-R-KLEEN of Nokomis do the dirty work for you can prevent a lot of headaches. Choose us to experience these advantages:
You don't have to transport awkward rental machinery or wonder how well it's been maintained.
You won't waste time or risk damages, just learning to use the equipment.
We have the skills and person-power to finish in hours, not days.
We have the experience and cutting-edge equipment to produce higher quality, longer-lasting results.
We do all the prep and clean-up.
We guarantee our work!
Once you see how stunning and affordable PDUBBZ POW-R-KLEEN's pressure washing is on your Nokomis property, you'll wonder why you didn't call sooner.
PDUBBZ POW-R-KLEEN Does 5-Star Roof Cleaning in Nokomis
Roof cleaning is crucial to roof maintenance and safety, especially here in Nokomis and along the Gulf Coast. The Internet is full of how-to videos, and most of the tools for soft wash roof cleaning can be bought at your big-box hardware store. Even so, professional roof cleaning is generally a safer and higher quality option in light of the money you might save doing it yourself, and PDUBBZ POW-R-KLEEN is more than happy to help you check this vital task off of your annual To-Do List.
If you're still set on soft washing your own Nokomis roof, though, be aware of the risks in advance. Falls are one of the most common causes of injury and death in the U.S., and the undiluted soft wash chemicals are strong enough to burn you. Here are some tips to keep you safe:
Work with a partner.
Wear protective gear: safety glasses, gloves, helmet, harness.
Use a lye-based (sodium hydroxide) or pre-mixed solution. Chlorine bleach can corrode metal gutters, flashing, etc.
Work on a windless day to prevent damaging overspray.
Speak with your shingle manufacturer and insurance company to make sure DIY roof cleaning won't void your warranties or policies.
If you find out you're not up to doing your own roof cleaning, no worries. PDUBBZ POW-R-KLEEN of Nokomis will gladly step up for you, and you'll be happy to see that our licensed and insured technicians use all of these same safety procedures to produce dazzling, damage-free results that last.