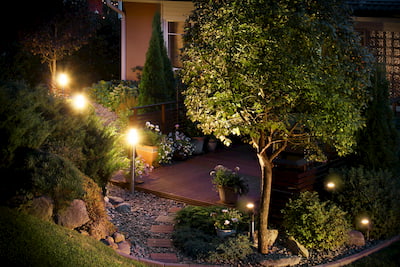 Landscape lighting can make a dramatic difference on your property and improve its value, so finding an experienced contractor to maintain your system is crucial. Your best choice is actually the best-rated pressure washing team of PDUBBZ POW-R-KLEEN. Pressure washing may be our forte, but we're dedicated to meeting all of your exterior cleaning needs, and landscape lighting are one of our specialty services. We'll keep your landscape lighting sparkling clean and functioning well.
Landscape lighting takes quite the beating, but with correct care, it can last a long time, especially if you have low voltage LED lamps. They have a 15-20-year lifespan! The key is a meticulous yet gentle approach. Your PDUBBZ POW-R-KLEEN pressure washing contractor team will:
Carefully inspect all of your fixtures to make sure:

Wires are secure
Lamps are working
None are taking on moisture
All are in generally good condition.

Clear away weeds and vegetation from fixtures
Make sure fixtures are properly positioned
Hand clean fixtures and lenses
We'll never use pressure washing on your landscape lighting, as it can damage fragile components. We won't use soft washing, either, as the solution can corrode them. We only hand wash with fine brushes and cleaning agents specially formulated to remove mineral deposits from glass and metal.
If you don't already have landscape lighting, it is a fantastic investment that offers these advantages:
Improves safety. Fewer falls and accidents happen on well-lit walkways.
Boosts security. Well-lit properties deter crime.
Emphasizes the beauty of your home's architecture and landscaping.
Creates ambiance. Outdoor gathering spaces feel more inviting and cozy.
When you want your landscape lighting to look good and last a long time, PDUBBZ POW-R-KLEEN is the pressure washing contractor you can trust.
---
Recent Articles & Tips
When most people visualize life in Florida, they envision sunshine 🌞, palm trees 🌴, beaches 🏖, and many other summer related activities. I can't think of a better summertime activity than swimming! (I'm sure most people would agree with that.) And the best part? Summertime in […]
These days, you can do most of your own home improvement and maintenance projects. Anything you want to learn can be found on the Internet, and if your local hardware store doesn't have the supplies you need, you can find them somewhere online, too. DIY projects […]