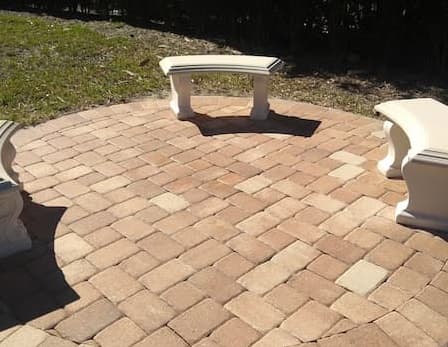 The concrete and other hard, porous surfaces around your Punta Gorda home seem to absorb stains and attract contaminants that not only make them look bad and but also pose safety risks for your family and friends. Pressure washing by PDUBBZ POW-R-KLEEN of Punta Gorda is the easiest and most cost-effective way to blast these surfaces clean and instantly restore their beauty.
In the hands of experienced specialists, pressure washing is totally safe and ideal for purging stains from areas like patios, walkways, sidewalks, and driveways. If any of these areas around your Punta Gorda home are looking rough, our professional pressure washing is guaranteed to remove:
Dirt, grime, debris
Slippery residue
Tree sap, pollen, leaves, etc.
Weeds, moss, lichens, algae without using toxic chemicals
Mold, mildew, bacteria, fungi
Animal and insect leavings
Motor oil, vehicle fluids, lawn chemicals and fertilizers
Rust and hard water stains
If you want the concrete and other hard surfaces around your Punta Gorda home to look better and be safer than ever, call PDUBBZ POW-R-KLEEN to see how pressure washing delivers immediate results.
Punta Gorda Chooses PDUBBZ POW-R-KLEEN for Roof Cleaning
Have you been worrying about the unsightly appearance of your roof on your Punta Gorda home? Have you noticed black streaks that just seem to get bigger? Before you rush to have it replaced, it may just need a thorough roof cleaning by a trusted pro like PDUBBZ POW-R-KLEEN. Unless your Punta Gorda roof is more than 20 years old or has endured a severe weather event, it usually doesn't need replacement, and professional roof cleaning will restore it to like-new condition in a matter of hours.
The growing black streaks on your roof are caused by a type of algae called Gloecapsa magma, and they're eating the limestone out of your shingles! If ignored for too long, they'll totally destroy the shingles and create fissures that allow mold to infiltrate your interior structures and living spaces.
The most effective way to get rid of these algae and other rooftop contaminants like mold, mildew, bacteria, and fungi is by having the PDUBBZ POW-R-KLEEN experts soft wash your Punta Gorda roof. Our proven soft wash method uses a non-corrosive solution that totally kills algae and inhibits its immediate return. In fact, your roof should stay clear for at least a couple of years.
Plus, soft washing instantly renews your roof's appearance so that your neighbors will be seriously wondering when you got a new roof.