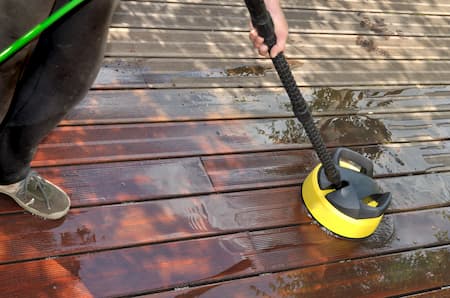 Pressure washing is usually the quickest way to deep clean most exterior surfaces around your home; however, certain delicate surfaces require a gentler soft washing method. The pressure washing experts of PDUBBZ POW-R-KLEEN are experienced and skilled enough to know the difference and to provide you the best soft washing experiences on these areas of your home.
While pressure washing uses highly pressurized water to clean, soft washing uses virtually no pressure. Instead, a non-corrosive cleaning solution is used to dissolve build-up and harmful contaminants. Then, it is rinsed away with no more pressure than that of a garden hose.
Soft washing is perfect for those surfaces that can't handle the abrasiveness of pressure washing, such as roof shingles and siding, which is why it is the gold standard method for roof cleaning and most house washing services.
PDUBBZ POW-R-KLEEN's soft washing isn't just safe for your home's surfaces. Our soft washing solution is biodegradable and eco-friendly, so it won't harm your landscaping or pets.
When you need a quality exterior cleaning contractor who specializes in effective soft washing, the experts of PDUBBZ POW-R-KLEEN are your team.
---
Roof Cleaning
Soft washing techniques remove unsightly algae and other contaminants. Your roof is safely restored to like-new condition.
Learn More About Roof Cleaning
---
House Washing
Soft washing gently removes stubborn stains from siding and exterior walls. It's perfect for delicate vinyl, wood, stucco, coquina, and more.
Learn More About House Washing
---
Recent Articles & Tips
These days, you can do most of your own home improvement and maintenance projects. Anything you want to learn can be found on the Internet, and if your local hardware store doesn't have the supplies […]
As Florida homeowners, we see a lot of molds. We know how ugly it is and that it can cause health problems, but is it really as serious as realtors and contractors claim? Actually, yes. Even sm […]