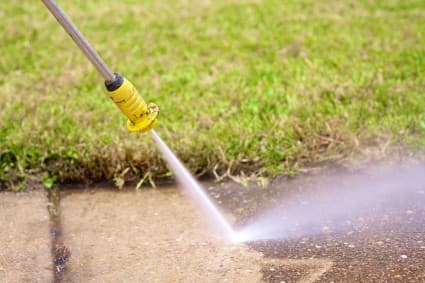 Similar to your driveway, your sidewalks get a lot of traffic and nasty, ugly things on them, and professional sidewalk cleaning is the best way to restore and protect their beauty, quality, and safety. Sidewalk cleaning by the reliable pressure washing pros of PDUBBZ POW-R-KLEEN will make sure that your sidewalks continue to welcome your family and friends with beaming glory for the lifetime of your property.
Like our ever-popular driveway and paver cleaning, pressure washing is the ideal means of sidewalk cleaning, and PDUBBZ POW-R-KLEEN's technique is done with precision and care to give you head-turning, damage-free results that will make your neighbors seriously wonder if you've laid new sidewalks.
Enhanced curb appeal is only the tip of the iceberg with sidewalk cleaning. Built-up contaminants can corrode sidewalks and pose serious health risks to your family and friends. A thorough sidewalk cleaning by the licensed, insured experts of PDUBBZ POW-R-KLEEN is guaranteed to remove:
Allergens and contaminants like mold, mildew, fungus, bacteria
Slippery deposits
Dirt, grime, debris
Algae, lichens, weeds, vines, thorns, moss
Tree sap, pollen, refuse
Rust and hard water stains
Vehicle oil and fluids
Animal and bird droppings
And for those of you with kids: marker, crayon, chalk, gum, candy, and any other residue from creativity or play
If you want immaculate sidewalks, a single sidewalk cleaning by PDUBBZ POW-R-KLEEN will make you wish you'd called sooner.
---
Recent Articles & Tips
These days, you can do most of your own home improvement and maintenance projects. Anything you want to learn can be found on the Internet, and if your local hardware store doesn't have the supplies […]
As Florida homeowners, we see a lot of molds. We know how ugly it is and that it can cause health problems, but is it really as serious as realtors and contractors claim? Actually, yes. Even sm […]